Portable Storage Benefits
Multiple trips to a storage facility can be exhausting, and if you don't have a large vehicle, transporting larger items can be impossible. With portable storage containers, you don't even have to leave your driveway to store away your possessions.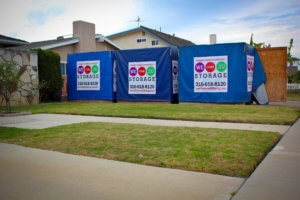 With We Come 2 U Storage, you can relieve some of the stress of clearing out your clutter, since you will be able to take your time to load your portable storage container, then once you are done send the storage container on its way to our storage facility. And, if you need your storage on hand keep your storage container right on your premises, it is completely up to you.
Using a portable storage unit is less complicated than renting a moving truck and dealing with extra expenses. These types of storage units are also especially useful if you are getting ready to move, but do not want to cram all of the loading into one day.
Your storage unit is extremely secure and can be left right in front of your home if you want to take a few days to fill it; or if you just need extra space to store your items, but also need to get to your items quickly.
We have two unit sizes 5ft x 8ft x 7ft and 8ft x 8ft x 7ft, which are roughly the size of walk-in closets.
How Does It Work?
It is simple WE BRING IT, YOU LOAD IT, and WE STORE IT.
We Come 2 U will deliver up to three storage vaults at a time to any location of your choice, with the option of same day pick up. You also have the choice to load or unload your storage unit onsite at our warehouse location.
You can either keep the storage unit at your location for however long you need, or have us pick it up and store it at our state of the art storage facility- with same day pick up available!
If you don't fill up the storage container(s) in its entirety, they are equipped for tie downs at 4 feet intervals so you can secure your load. We keep all storage units level during transport, so you can be assured that your possessions will be safe in transit. Most storage containers load and unload their own unit, but as a subsidiary of 123 Moving and Storage, we have the resources to provide you labor if required.
Our Most Popular Service Areas